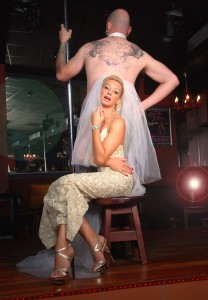 The Lollipop Lounge is driven and inspired by its two owners GiGi and Mike, both of whom have worked in the erotic industry for many years.
GiGi is a well-known erotic dancer, actress, winner of Survivor South-African 2010. Mike has been in the club security industry for years, and it's their passion for the industry that's turned this humble little lap dancing venue into an unmistakable landmark in Randburg.
The Lollipop Lounge has a warm, friendly, inviting feeling. Many film shoots and music videos have been shot in the Lollipop Lounge and no wonder, with its strong Moulin Rouge like ambience. The staff is attentive and welcoming. The food is excellent. We are known for our club platters and for the best fillet in town. But the real magic is on stage, the stage is never empty. The wide selection of all South African beautiful girls will dazzle and tickle your every erotic desire. The Lollipop Lounge Chapel, separate from the club is where bridal parties can express themselves. The venue has a strong theatre-like atmosphere with rich draping,s, red chandeliers and comfortable seating. The ceremonies will be conducted on the main stage between the poles.
"Having done so many bachelor parties, in so many venues around Johannesburg, we are now taking things one step further. We are bringing to you… for the first time ever in South-Africa…a little chapel that is so different your guests will never forget your wedding. An experience of a lifetime guaranteed to create a lasting, thrilling memory for you and your partner. I love Las Vegas style weddings. You will love the Lollipop Lounge chapel. Come and see for yourself!" xxx Gigi