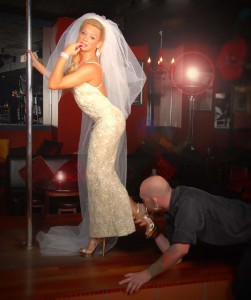 Are you a different woman? Adventurous, fun, always doing things in a way that leave others gobsmacked? And of course the man that you are about to marry is as diverse as you! Well then getting married in a lap dancing venue will leave your guests talking for days on end. And you as a bride must remember that for some guests just standing at the entrance of the Lollipop Lounge will be an experience to start off with. The Lollipop Lounge Chapel is cosy and warm with a definite burlesque Moulin Rouge-type, feeling. Red chandeliers and elaborate draping's gives the venue an exotic, old theatre feel. You will get married on stage between the two strip poles under the roses of the Lollipop Lounge Chapel. And you can wear what your heart desires. You can go for the obvious white dress, but here, at the Lollipop Lounge, you can experiment with red, black, or gold wedding dresses, or black leather with the man of your dream on a leash (If you want to set the rules of the house in the early stages). You can ride him as a glamorous cowgirl or wear a see-through wedding dress, just nipple caps or if you are very daring, take the plunge, do it topless! This is the venue to play and all the stage is yours and yours alone.
You and our DJ will put together music of your choice to enhance your theme even more. The guest will dance around the stage and on the stage, and the poles will be put to the test after the wedding ceremony. All of this while the bridal couple watch in delight and frolic in our unique Lollipop Lounge bubble overlooking all the proceedings.
Never a boring moment at the Lollipop Lounge!
Choose between our various packages:  The Quickie, the Sprinter and the Stayer. You will find reservations forms with each of these packages. Our aim is to make your wedding affordable and yet an extravaganza that nobody will forget.
For the first time in South-Africa we present a Las Vegas type venue for open minded people. Your guests might see our dancers scantly dressed as they walk in but the Lollipop Lounge chapel is for your private use with soundproof doors. Make sure your wedding is an experience to remember! The Lollipop Lounge Chapel is a first in South Africa! See you soon!
Love Xx
GiGi